Chomonkyo Gorge, a designated National Site of Scenic Beauty
There is an approx. 5.1 km long walking path as far as Kawakami in Hagi City where visitors can enjoy a leisurely stroll while viewing the magnificent gorge.
The area is famous for its richly colored autumnal leaves, and many people visit during the autumn-foliage-viewing season.
In summer, you can enjoy freshly caught ayu (sweetfish) from the clear water of Abugawa River which is the major attraction sport for the people feel a cool breeze.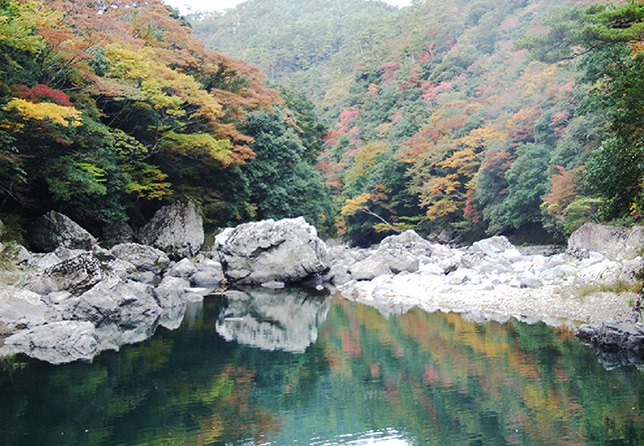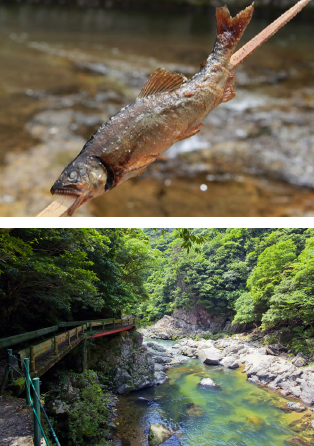 Walking Map
The entrance to the walking path is approx. 300 m from Chomonkyo Gorge Roadside Rest Stop.
Going as far as the Ryugu-fuchi on the Hagi City side, the path is approx. 5.1 km long and takes around 100 minutes to walk.
When traveling by car from National Route 9 to the Ryugu-fuchi, turn in the direction of Hagi at the traffic lights near Shinome Station.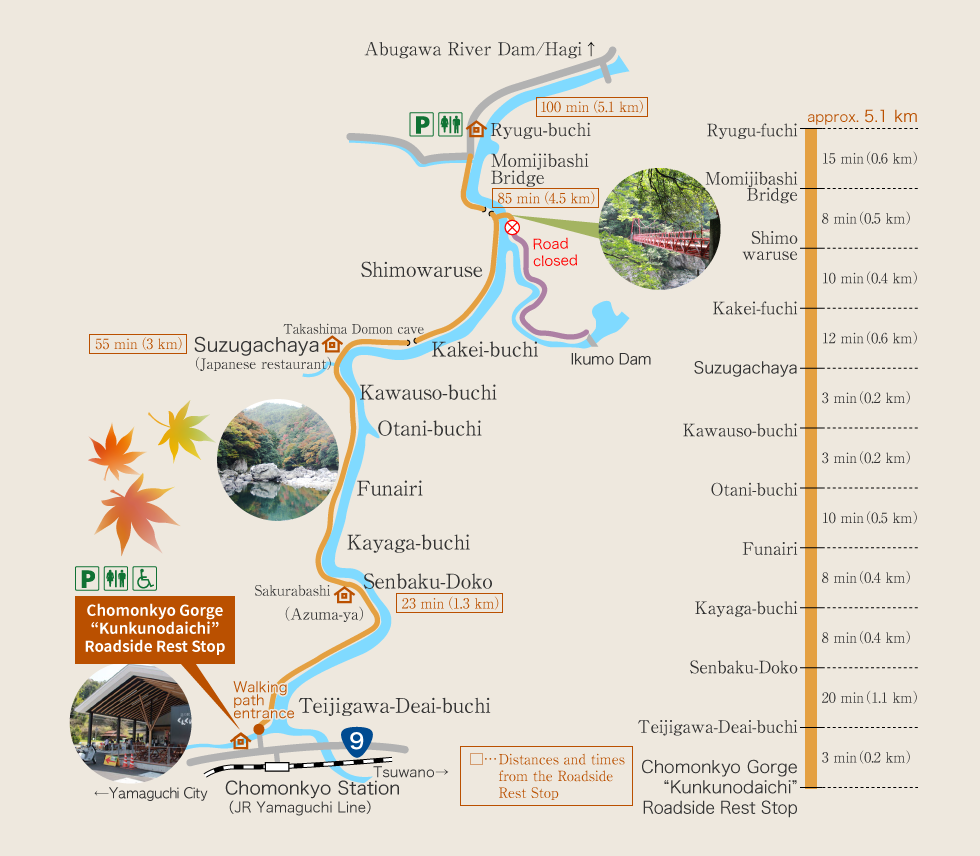 History of Chomonkyo Gorge
In 1912, the gorge was introduced to the world by English-language teacher George Edward Luckman Gauntlett from the UK (Wales) and named "Nagato Yabakei".
Subsequently, the gorge was renamed by Takashima Hokkai, an artist born in Hagi City, who gave it its current name of "Chomonkyo".
Chomonkyo Gorge was designated as a National Site of Scenic Beauty in 1923 and was designated as a Yamaguchi Prefectural Natural Park in 1962.
Nearby Sightseeing Spots

SL Yamaguchi-go Steam Locomotive

The JR Yamaguchi railway line runs in front of the Chomonkyo Gorge Roadside Rest Stop, enabling up-close views of the SL Yamaguchi-go Steam Locomotive.

Tokusa Hachimangu Shrine

This shrine is known as the most picturesque spot for viewing weeping cherry tree blossoms in western Japan. When the cherry trees are in full bloom, the pathway to the shrine is transformed into a spectacular tunnel of cherry blossoms.

Ganjoju Onsen Hot Spring

These natural hot springs are enveloped in clear air and rich greenery and are also called "Bijin-no-yu" ("provides soft water with abundant nature's beauty mineral like sulfur.").

Mt. Tokusagamine

Rising to an altitude of 989 m, this mountain provides a sweeping 360-degree view from its peak for visitors to enjoy. There is also a camp site and ski resort.

Apples/pears

The area has various tourism orchards where visitors can enjoy apple, pear, or grape picking. Seasonal fruits are also sold at the Roadside Rest Stop.

Funahira-yama Daylily Colony

The best viewing season is mid-July through early August. Flowers begin opening in the evening and fade the next morning.

Ato Wagyu Beef

This top-quality beef is produced in Ato. Direct sales are available exclusively from the Roadside Rest Stop and can also be enjoyed at the Chomonkyo Restaurant.