The Ato regions produces many delicious specialty foods including rice, Ato Wagyu Beef, tomatoes, apples, pears, and honey.
The Ato-no-Megumi direct sales store sells Ato region specialty foods.
You can also purchase meticulously raised Ato Wagyu beef. It truly does provide ONLY here!
Opening hours:

Ato-no-Megumi direct sales store 9: 30am~6: 00pm
Take-out Counter 9: 30am~4: 00pm

Regular holiday:

Closed every 2nd Tuesday of the month as a general rule (Closed on the 1st Tuesday in August; no regular holiday in November)
New Year holidays:December 31 (afternoon) – January 1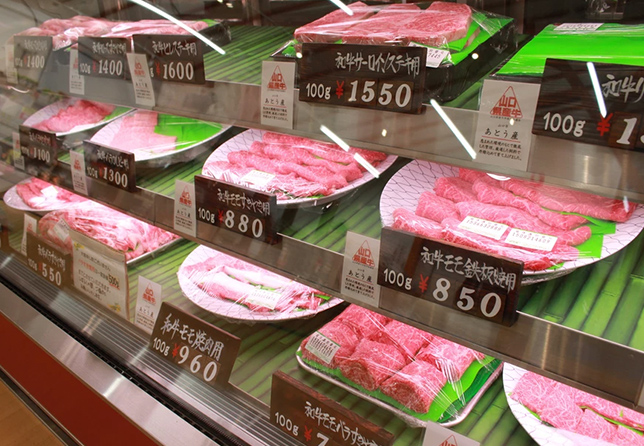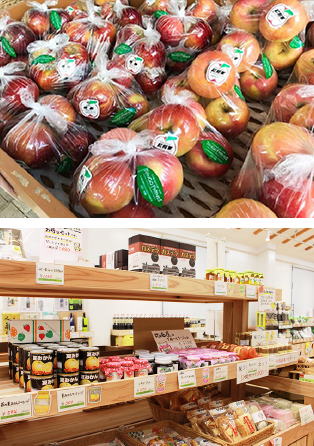 Take-out Counter
This take-out counter was constructed together with the Ato-no-Megumi direct sales store at the Chomonkyo Gorge Roadside Rest Stop.
The rice flour ice cream was sold here for the first time in Yamaguchi Prefecture and is made from Ato rice.
The take-out counter also provides various type of delicious foods and drinks including Ato Wagyu Beef Fried potato and Tokusa apple juice.
♪Made with Ato rice♪ Rice-flour Soft Serve Ice Cream Cone 350 yen / Cup 250 yen / Sundae (Kinako or Sencha 380 yen)
Fried mashed potato mixed with Ato Wagyu Beef :180 yen
french fries:300 yen
Tokusa apple juice:250 yen
Iced Coffee:180 yen
Coffee:150 yen